A decade of making a difference through grassroots action together
27 juin 2023
2023 marks the 10th anniversary of the Louis Dreyfus Foundation – a decade during which the Foundation and its partners have worked hand in hand to drive sustainable agricultural development around the world through micro-farming and educational programs.
This year is an important milestone for the Louis Dreyfus Foundation, as it celebrates its 10th anniversary.
From building an agri-school and delivering training on good agricultural practices, to facilitating access to markets and micro-credit, and more recently creating a business incubator based on regenerative agriculture methods, Louis Dreyfus Foundation has worked alongside its partners to improve livelihoods and resilience of farming communities across three continents, whose production is so central to global food security.
Reducing inequalities, supporting women smallholders and empowering the next generation of farmers and leaders in sustainable agriculture has also been high on the agenda.
Achievements At a Glance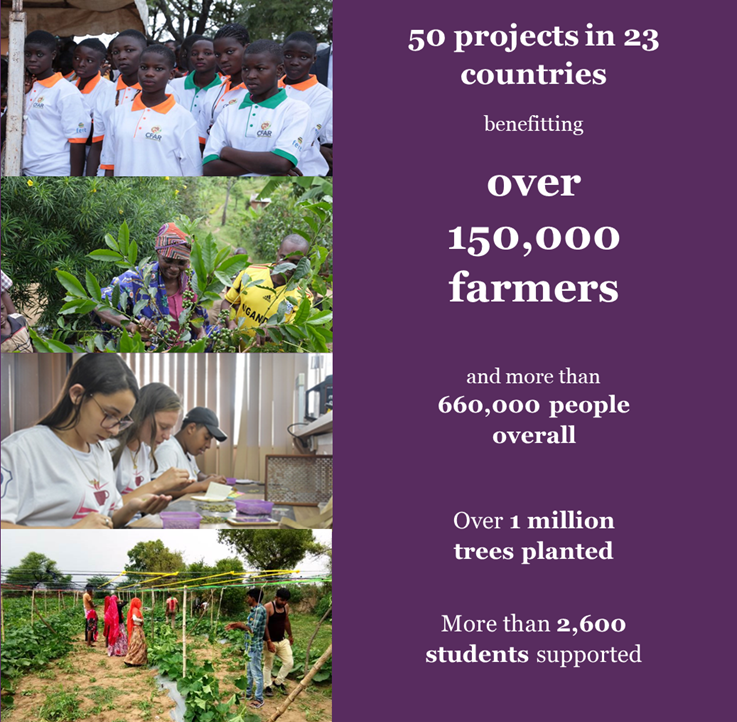 To celebrate its 10-year milestone and reflect on the fruitful collaboration of everyone involved, the Foundation brought together its partners and contributors for a special event on the theme: Making a difference through grassroots action, together!
Some 90 international guests gathered together in Paris for the occasion, including the Foundation's Board and Advisory Committee members, partners and field coordinators, as well as LDC agents and project managers from countries where the Foundation is running projects.
Margarita Louis-Dreyfus, President of the Louis Dreyfus Foundation, welcomed and reminded everyone of the Foundation's purpose and mission:
"Our Foundation was created in memory of my late husband, Robert Louis-Dreyfus, and has been very much inspired by his visionary & entrepreneurial spirit – with the vision to make a positive impact on the lives of many small farmers through actions and partnerships to support them in learning sustainable agriculture and achieving self-sufficiency. Robert's vision is and will remain our vision," she said.
She also spoke about the importance of this mission and thanked the assembled group for their contributions to the many positive impacts we have made together:
"It has always struck me that small farmers are the ones who produce a large majority of global food supply, and yet they suffer most from food insecurity. For that reason, the Foundation chooses its projects primarily in countries with high poverty rates in rural areas, where farmers have limited access to technical assistance, inputs and credit. We are extremely proud that our ambitious goals from the very beginning have succeeded, thanks to the experience, energy and dedication of the people in this room: our partners, the Foundation team and many enthusiastic LDC employees."
The rest of the event unfolded in a warm and celebratory atmosphere, with several speeches, partner testimonials and project videos, and the voices of beneficiaries whose lives changed thanks to our collective work and efforts.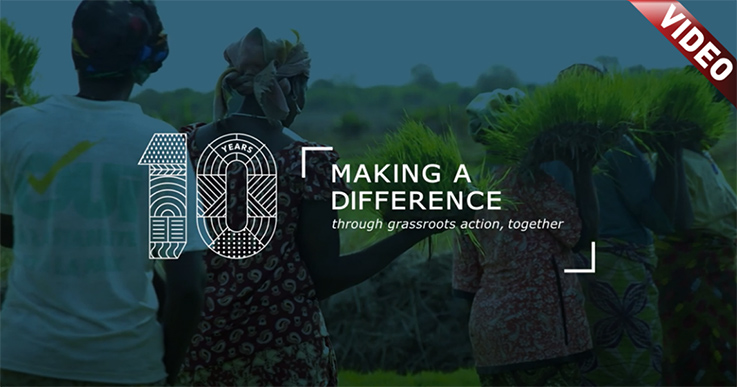 Event participants also had the opportunity to visit an exhibition area showcasing some of the Foundation's flagship programs such as the rice value chain project and agricultural vocational school in Cote d'Ivoire, the sustainable coffee and agroforestry project in Indonesia - to name a few.
In 2023 Louis Dreyfus Foundation has entered a new cycle of activity, committing financial resources to continue driving economic and social welfare in rural communities, increasing food security and supporting sustainable food production.
Guided by same principles and funding priorities, LDF has the ambition over the next five years to launch new projects and scale-up its existing initiatives and make a difference for more smallholder families and rural communities.